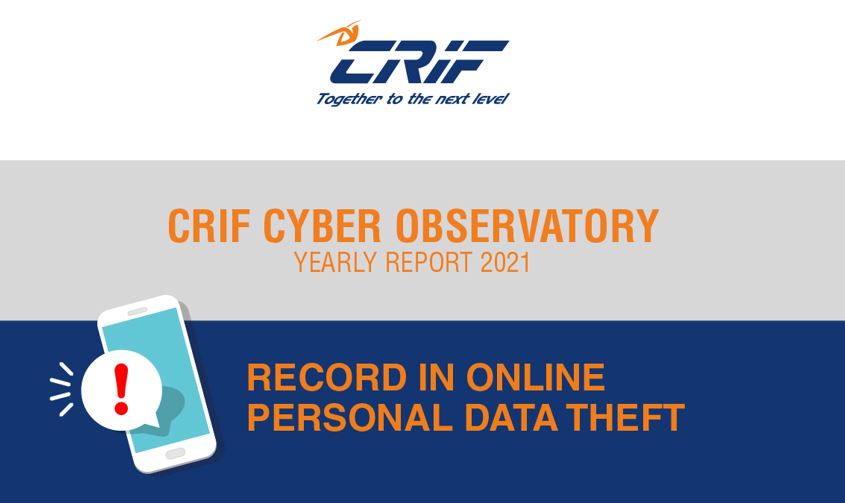 In 2021 nearly 2 million of alerts were sent through our systems, with an increase by 48,7% vs 2020.
Alerts were related to data both found on the open web and on the dark web, with an increase of the latter by 57,9%.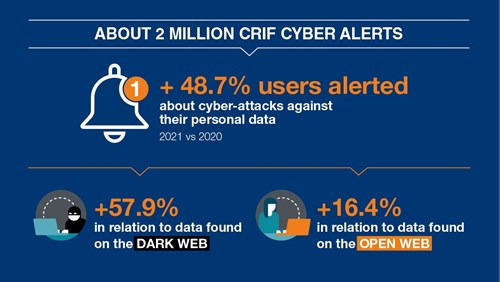 Which are the most vulnerable data on the web
Overall, in 2021 we identified several categories of data vulnerable to cyberattacks; however, we have observed that passwords, personal or corporate email addresses, usernames and phone numbers are predominantly circulating on the dark web and are therefore most vulnerable.
Compared to 2020, first and last names take over from credit cards in fifth place.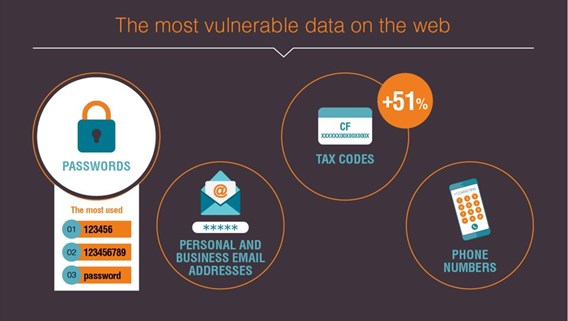 TOP 10 INTERCEPTED PASSWORD IN 2021

1

123456

2

123456789

3

password

4

qwerty

5

12345

6

12345678

7

111111

8

qwerty123

9

1234567890

10

1234567
(Source: 2021 CRIF Cyber Observatory)
Ranking of most detected emails by domain and countries most affected by the phenomenon
The ranking of the most detected emails on the dark web, in terms of domain composition, allows us to locate the email provider, with the exception of '.com' and '.net' which have global coverage. The .com domain is not only global, but also the most used in the US. It can therefore be assumed that the countries most affected by the online theft of e-mails and passwords are the US, Russia, France and Germany. The UK follows, ahead of Italy.
The other countries completing the top 10 domains most affected by online password theft are Poland, Brasil, India e Japan, thus entering among the most effected countries listings.
Even the .edu domain, which is popular among schools, colleges, and universities, circulates widely on the dark web; this means that many student and faculty email addresses are exposed to cyber risk.
The table below shows the most relevant domains and most effected countries: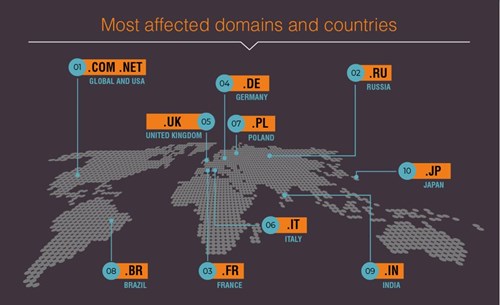 Source: 2021 CRIF Cyber Observatory 
Where do payment card data get stolen the most - Continents
The ranking of the continents most affected by payment card data exchange is led by North America, followed by Asia which surpasses Europe, while Africa surpasses South America.
At the bottom of the list is Oceania.
In particular, Asia and Africa have seen an increase in credit card theft.
| | | | |
| --- | --- | --- | --- |
| Continent | 2020 | 2021 | YoY 2020 vs 2021 |
| North America | 51% | 41% | -20% |
| Asia | 8% | 26% | +231% |
| Europe | 21% | 14% | -34% |
| Africa | 1% | 9% | +1116% |
| South America | 18% | 5% | -70% |
| Oceania | 1% | 5% | +280% |
Continents most effected by credit card dark web exchange in 2021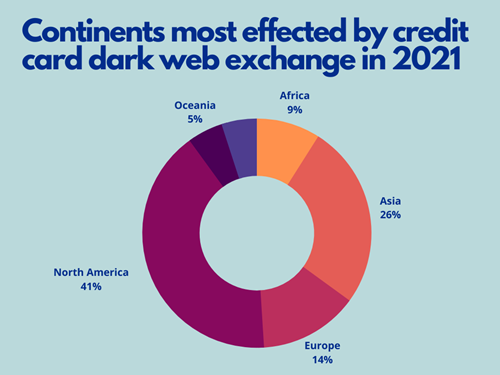 (Source: 2021 CRIF Cyber Observatory)
Where payment card data get stolen the most - Countries
The ranking of the countries most affected by payment card data exchange in 2021 is led by the US, India, Mexico, China and Australia. The other countries that close the top 10 are South Africa, Brazil, UK, Canada and Italy
TOP 10 2021

1

United States

2

India

3

Mexico

4

China

5

Australia

6

South Africa

7

Brazil

8

United Kingdom

9

Canada

10

Italy
(Source: 2021 CRIF Cyber Observatory)
6 tips to protect you from identity theft and digital fraud
Choose secure passwords: it is important to choose long and different passwords for each account, using combinations unrelated to personal information.
Install an antivirus program and update software: to constantly improve the security of your devices it is essential to keep them updated and protected.
Activate two-factor authentication: this is important to prevent hackers from getting into accounts even if they have discovered the username and password.
Beware of suspicious messages, emails and phone calls: always be wary of any attempt at contact that requires personal or financial information.
Protect your devices PIN, password, touch or face ID: device access locks, including remotely controlled and prevent others from using them without your consent.
Use monitoring services: choosing specific solutions to monitor the circulation of your data on the web is the best strategy for more comprehensive protection.